Humidity Sensor and Transmitter
We are well equipped to present our clients high quality Humidity Sensors and Transmitter. Used for measuring various parameters relative to humidity, these instruments possess a highly enduring design. Designed to work under toughest of conditions, they are widely used in various industries like oil & petroleum and chemical among others. Further, they have a hi-tech sensor, which can detect even the slightest change in the humidity of any kind of atmosphere.
Humidity And Temperature Transmitter
The RMS Relative Humidity and Temperature Transmitters RHT-DM are microprocessor-based instruments that incorporate high-accurate and stable sensors whose information is converted to linear 4-20 mA or 0-10 Vdc. As they are microprocessor equipment, they can be totally configured through the communication interface ATxConfig and ATxConfig software. The humidity output can be configured to represent the Relative Humidity measured or the temperature value at dew point. our Range is 0-100%RH,0-100`C The RHT-WM model is intended for wall mounting. The RHT-DM comes with a probe tip for duct or wall mounting.

Humidity Controllers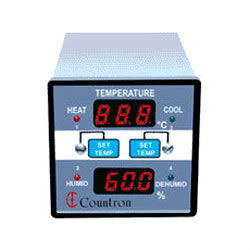 Our organization is engaged in offering its clients a superior range of Humidity Controllers. Having a temperature control range between 0 to 65°C, its control operation is driven by a 10 turn helical potentiometer. Further, the humidity control range lies between 0 and 100 %. It has a high accuracy rate of 1% for RH and 0.10C for temperature and similar figures for least count. The display is directly fed from micro processor self internal look up tables. Two relays each are provided for controlling temperature and humidity. The function for these relays is as given below: Temperature: One operates 0.5°C above the set point for cooling and the other operate 0.5°C below the set point for heating
Humidity: One operates 1% RH below the set point for humidification and the other operates 1% above the set point for de- humidification.
Humidity Transmitter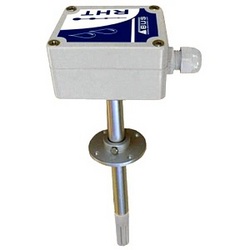 The RHT-DM series Humidity Transmitter have the same features of RHT-WM series but are provided with a flanged probe for easy installation in ducts, chambers and air conditioning systems. By keeping the circuit away from the wet environment the probe can then be exposed to harsher conditions and much higher temperatures.
| | | |
| --- | --- | --- |
| Repeatability | : | Humidity: ± 1% RH, |
| Temperature | : | ± 0.1°C |
| Hysteresis | : | Humidity: ± 1% RH |
| Span | : | Humidity: 0 ~ 100% RH or -40 ~ 100°C for Dew Point, |
| Temperature | : | -40 ~ 120°C |
| Response Time | : | Humidity: 4 seconds in slow moving air, |
| Temperature | : | Up to 30 seconds in slow moving air. |
| Outputs | : | 4 ~ 20mA or 20 ~ 4mA current, 2-wire loop powered supply, 0 ~ 10V DC Voltage (Optional). |
| Power Supply | : | 12V DC ~ 30V DC (4~20mA Model), 18 ~ 30V DC (0~10V Model). |
| Channel Isolation | : | 4 ~ 20mA outputs are isolated. 0 ~ 10V outputs share a common ground. |
| Output Load (RL) | : | 4 ~ 20ma output. RL.=(Vdc - 12) / 0.02 Where Vdc = Loop Power Supply (12 ~ 30V DC) |
| Reverse Polarity Protection | : | Yes |
| Protection | : | Electronic Circuit Case: IP 65, |
| Sensors Capsule | : | IP 40 |