Process Monitoring And Control Equipment
We are one of the most accomplished manufacturers, suppliers and exporters of high quality Process Monitoring and Control Equipment. In addition, we also offer our clients a quality tested range of Automation products. Fabricated from the highest grade of raw material, our complete range is highly acclaimed for its high resistance to corrosion & abrasion, long lasting nature, superior built and excellent efficiency. They find application in automation and manufacturing industry. Our detailed product range is as given below:
Load Cell Sensors and Strain Guages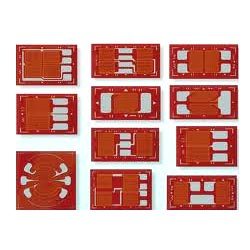 Our manufactured range of products includes Load Cell Sensors and Strain Gauges. Fabricated from superlative quality raw material, these devices are custom made to suit the unique needs of our valued clients. These are highly appreciated for possessing a flawless design and are used for many industrial purposes. We take utmost care while manufacturing these products so as to ensure that the finished device offers highly accurate results.
PID Temperature controllers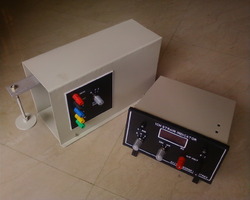 The RMS PID Temperature Controller, economy and Low Cost Model is a Microprocessor based Digital Process Controller, which can be applied in high-precision measurement and control of temperature, pressure, discharge, liquid level and humidity etc... A four-digit LCD dual display shows measured value and set-value for all programming parameters. Instrument configuration is achieved from the front panel keyboard, without any hardware change. The user should read this manual thoroughly before using the instrument. It must be handled with care and should be used accordingly for best result
Sensor Input
:
Thermocouple: J,E,S & K,
RTD
:
Cu50, Pt100,
Voltage
:
0 ~ 5V, 1 ~ 5V,
Resistance
:
0 ~ 20mA, 4 ~ 20mA.
Intrinsic Error
:
± 0.5% F.S.± 1 digit.
Sampling Period
:
Less than 0.3 seconds.
Power Supply
:
220V 10% / 50~60Hz,
Power Consumption
:
Less than 5W.
Output Specifications
:
Relay Contact Switch,
Solid-State Relay
Single Phase Thyristor zero-crossing trigger signal,
Inverse Parallel Connection or Thyristor Power Module.
Operating Temperature
:
0 ~ 50°C.
Humidity
:
0 ~ 85% RH.
Dimensions
:
48mm x 48mm x 100mm.
Pressure Sensors and Transmitter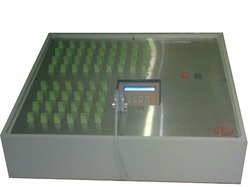 The pressure transmitters are designed for high volume and low cost OEM industrial and commercial applications
| | | |
| --- | --- | --- |
| Ranges | : | |
| Absolute | : | 0 ~ 1 to 0 ~ 50 Bar |
| Vacuum | : | -1 to 1 Bar |
| Gauge | : | 0 ~ 100 mB to 0 ~ 1000 Bar (0 ~ 1.5 to 0 ~ 15000 PSI). |
| Accuracy | : | ± 0.25% FS (BFSL) |
| Maximum Pressure | : | 1.5 x F.S. |
| Output | : | 4-20mA |
| Adjustable Zero/Span | : | ± 10 using potentiometers inside the instrument. |
| Power Supply | : | 24V DC (10 ~ 36V DC). |
| Electrical Conenctions | : | M12 connector |
| Operating Temperature | : | -40 ~ 85 °C (125°C for short durations) |
| Ambient Temperature | : | -20 ~ 80°C. |
| Process Connection | : | G¼",M20 x 1.5,¼" NPT. |
| Pressure Inlet | : | All media compatible with stainless steel 316. |
| Wetted parts | : | SS 316L / Al203 / NBR. |
| Housing | : | Stainless Steel, Protection Class IP65. |
Signal Convertors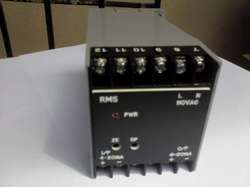 Clients can avail from us unique Signal Converters. The primary function of these converters includes transforming one form of signal into another form with minimum losses. We make them using the best grade of raw material after comprehensive research, which ensures that the various energy losses are minimized. These devices produce accurate waveforms as output and are mainly used in various electrical applications.
DC Power Regulated Supply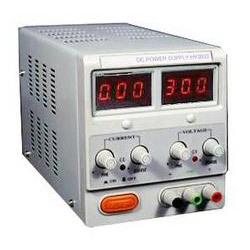 Our gamut of products includes DC Power Regulated Supply. Made using highly reliable and premium quality components, this power supply offers superlative performance and effectively protects the electrical devices from the damaging effects of varying voltages. Some of the components used for building these supplies include resistors, diodes, op-amps and rectifiers. Besides, we can customize them as per the requirements of the clients.
Humidity Sensor and Transmitter

We are well equipped to present our clients high quality Humidity Sensors and Transmitter. Used for measuring various parameters relative to humidity, these instruments possess a highly enduring design. Designed to work under toughest of conditions, they are widely used in various industries like oil & petroleum and chemical among others. Further, they have a hi-tech sensor, which can detect even the slightest change in the humidity of any kind of atmosphere.
Proximity and Photo cell Sensors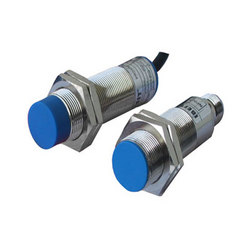 Our organization is engaged in offering the clients best quality Proximity and Photo Cell Sensors. These devices work on the principles of photoelectric effect. A light sensitive material is used in their making, which activates on being exposed to a light source of a particular wavelength. Further, these devices are used for detecting the presence of any nearby object and producing a relevant output. To ensure that these devices exhibit precise performance characteristics, we fabricate them from best-in-class raw material.
AC & DC Drives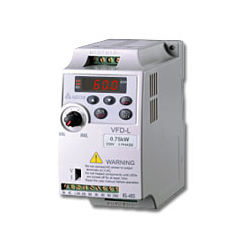 Our diverse array of products includes high quality AC & DC Drives. These variable drives are used for adjusting the rotating speed of an electronic motor. Their flawless design ensures high performance and better control. They can be customized as per the usage requirements and consume very less amount of power. Besides, we take utmost care to ensure scratch less and timely delivery to the clients' premises.
Other Sensors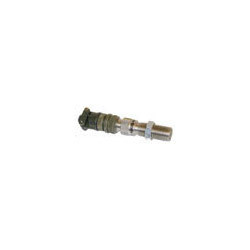 Our organization is engaged in offering qualitative range of Other Sensors. These products are in compliance with the latest industrial standards and offer an unmatched performance. Our engineers make use of the latest production techniques to fabricate these products. Further, our quality controllers keep a close watch on the whole production process to ensure that the entire range is free from any flaw.
Other Products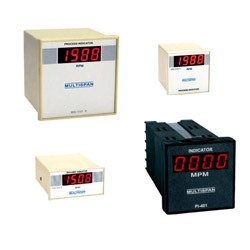 Our vast offerings include high quality Other products. These are designed after thorough research, which ensure that they have a flawless design and superior performance. Besides, being fabricated from the highest grade of raw material, they are very durable in nature and find application in various industries.