Pressure Sensors and Transmitter
The pressure transmitters are designed for high volume and low cost OEM industrial and commercial applications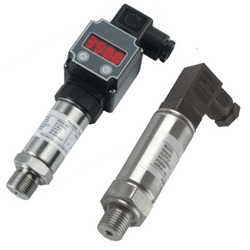 | | | |
| --- | --- | --- |
| Ranges | : | |
| Absolute | : | 0 ~ 1 to 0 ~ 50 Bar |
| Vacuum | : | -1 to 1 Bar |
| Gauge | : | 0 ~ 100 mB to 0 ~ 1000 Bar (0 ~ 1.5 to 0 ~ 15000 PSI). |
| Accuracy | : | ± 0.25% FS (BFSL) |
| Maximum Pressure | : | 1.5 x F.S. |
| Output | : | 4-20mA |
| Adjustable Zero/Span | : | ± 10 using potentiometers inside the instrument. |
| Power Supply | : | 24V DC (10 ~ 36V DC). |
| Electrical Conenctions | : | M12 connector |
| Operating Temperature | : | -40 ~ 85 °C (125°C for short durations) |
| Ambient Temperature | : | -20 ~ 80°C. |
| Process Connection | : | G¼",M20 x 1.5,¼" NPT. |
| Pressure Inlet | : | All media compatible with stainless steel 316. |
| Wetted parts | : | SS 316L / Al203 / NBR. |
| Housing | : | Stainless Steel, Protection Class IP65. |
Rotameter
Features
Complete range starting from 1/4" end connections to 2 .½" end connections and flow range from 10 LPH model upto a maximum of 50000 LPH models Available in in-line and panel mount styles One piece meter body acrylic Body Quick Lock Half Union Adaptors Permanent Silk Screen Printing with black ink for optimum contrast Enhanced meter readability using precision textured light admitting surface on the rear of the body flow control valve model is available. Measure liquid and Gas at any Range.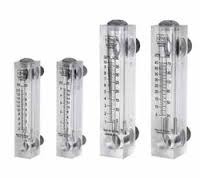 Technical Specifications
| | |
| --- | --- |
| Accuracy | ±1 % of FSD |
| Meter Body Construction | Acrylic Body |
| End Connectors | SS Connectors |
| O-Ring Material | Nitrile |
| Float Material | SS316 |
| Temperature Limit | 70°C |
| Pressure Limit | 10 Kg/cm2 |
Flow Liquid/ GAS FLOWRANGE 10LPH to 50000LPH LPH OR LPM
Pressure Indicator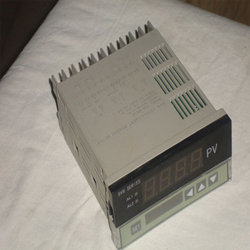 Universal Process Indicators are high performance instruments used for monitoring analog signals in the vast majority of industrial and laboratory processes. Configuration from the front panel can be easily made to accept RTD, mA, voltage or mV signals. The retransmission of input in form of standard current or voltage signal make it even more adaptive to the process environment, the retransmitted output signal could be further taken to PLCs or other Analog signal processing devices such as Recorders. Two bright 4 Digit displays are Extra Alarm and RS485 MODBUS Communication are available as option.
Applications
The product can support a wide application range to accept and display analog inputs. In process control industry the product finds use to display process parameters from various sensors such as Pressure, Flow, Level, Temperature etc...
2. PRESENTATION
Features
1. Input signals mA, V, mV and RT programmable from the front panel.
2. 2 relay alarm output free setting capacity AC 250V/3A or DC 30V/3A.
3. 4~20 mA DC Retransmission output.
4. Auxiliary output power supply 24V/12V DC max 30mA.
5. With RS-485 communication.
6. Accuracy: 0.2% FS.
7. Power supply: 85~260V AC/DC, consumption less than 5VA.
Pressure Transmitter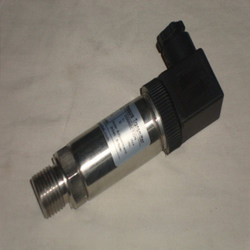 The PT series of pressure transmitters are designed for high volume and low cost OEM industrial and commercial applications in the measurement of gas and liquid pressures. Built around a high mechanical stability ceramic sensor, which withstand a broad temperature range, they are particularly suited for used in Sugar, Fertilizer, Chemical, Cement, Power Plant, Pharmaceuticals, Boiler and other process industries for pressure measurements.Ranges Upto 1600Bar.Differential Pressure Transmitter (DPT) also available in all ranges Technical Parameters Accuracy: ±0.25%FS (BFSL) ±0.5%FS (limit point calibration) Ranges: Absolute: 0…1 to 0…50 bar, 0…15 to 0…750 psi Vacuum: 0…-1 bar, 0…-15 psi Gauge: 0…100mB to 0…1600 bar, 0…1.5 to 0…15000 psi Output: 0...5 V, 0...10 V, 0.5...4.5 V, 4...20 mA (Customized On request) Power Supply: 24Vdc (10~36Vdc) Maximum Pressure: 1.5 x F.S. Adjustability Zero / Span: ± 10 using potentiometers inside the instrument Electrical Connections: M12 connector, Five Pin bendix connector, Hirschman Type or Direct down-lead. Process Connection: G1/4, G1/2, M20 x 1.5, 1/4NPT (Customized On request) Pressure Inlet: All media compatible with stainless steel 316 Operating temperature: -40 ~ 85°C (125°C for short durations) * Higher range, on request. Ambient temperature: -20 ~ +80°C Wetted Parts: SS 316L / Al2O3 / NBR Case: Stainless steel Housing: Stainless steel, protection class IP65
Pressure Sensor Calibrators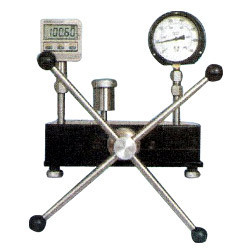 We are engaged in providing the clients with precision engineered Pressure Sensor Calibrator. These products are extensively used for calibration of various sensitive pressure measuring calibrators. Fabricated from raw material of highest quality, these calibrators exhibit extraordinary attributes like superlative performance and high accuracy. Our quality controllers keep a strict vigil on the complete production process to ensure that the end product possesses flawless design.
Digital Pressure Gauge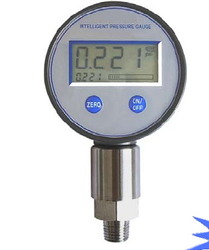 We are supplier of digital pressure gauge or manometer its a CE and ISO-9001 certified product, DIGITAL PRESSURE GAUGE :
DIGITAL MANOMETER:
DIGITAL DIFFERENTIAL PRESSURE GAUGE:
Range : vacuum, compound, pressure: 0 to 1 bar -----------1000 bar
Display : Digital LCD shows reading, self-adjustment (return to zero automatically).
Special Future :---- Backlight, reset and unit switches. ---- To display Peak-Hold value, ---- Gauges will be auto off after 5 minutes without any knobs/switches operations, in order to save the power.
Range accuracy : +/- 0.15 % of span
Power supply : Lithium battery chargeble / non chargeble bettery
Ambient temperature: -10 - 60 C.
Storage temperature: 0 - 70 C.
Humidity: 90% RH (non-condensing)
Engineering unit: 1) Kg/cm2 , 2) Bar, 3) PSI 4) kpa 5) Mpa
Differential Pressure Transmitter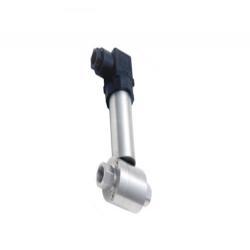 Differential Pressure Transmitter Range : -1 to 0 to 40mbar------70 bar Output signal : 4 . .20 mA, 0 .. 5/10 Vdc, Power supplier : 10 ... 28Vdc (Current Output), 15 .. 30 Vdc (Voltage Output) Material in contact: AISI3l6L, Case : AISI304 Process connection: G1l4 (F) Overpressure : 100 bar, Protection : IP65 Permitted temperature fluid: : -20..+80C Sensor class (included linearity and hysteresis): 0,25%fs Sensor: Piezoresistive
Features:
Differential pressure transmitter available with FLAMPROOF HOUSING (CMRI Certified) Differential pressure transmitter is CE Compliance differential pressure transmitter is very high static pressure application
Range:
Differential pressure transmitter pressure range : -1 to 0 to 40mbar------70 bar,
Application :
Machine construction, Paper Industry, Plastics Industry, Beverages Industry, Food stuf Industry, Petrochemical Industry, Chemical Industry, Appartus construction, Water,air and gas, OEM low cost, Machine and Testing, Calibration, Low Pressure Air, Gas Application, Sanitary, Food Process, Pharmaceutical Industry, Pharma Industry, Dairy machine manufacturer, Ice-cream machine manufacturer, Mud pump, Oil, Petroleum Industry, Gas Industry, Drilling rigs, Process Industry, Power Supply, Steam Industry, Wood fire equipment,